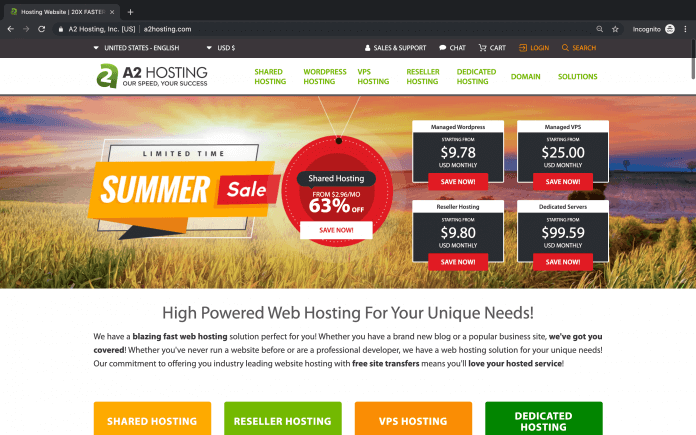 A2 Hosting is one of the fastest and yet affordable hosting service providers available in the market right now. A2 offers many hosting solutions including, Joomla, Managed WordPress, Dedicated Server, Windows and Linux web hosting. Here we are going to review it's Shared Web Hosting, which starts at just $2.96/ month.
A2 Shared Web Hosting Review
A2 hosting got start back in 2001 with the intention to provide quality and affordable hosting services to the people in need. Now they are known as one of the fastest service providers in the market. In this review of  A2 Hostings, we'll look into their plan's pricing, features, performance and then I'll share my personal opinion along with special A2 Hosting offer to our readers.
Pricing & Features
Nowadays hosting is not cheap. Some hosting providers can't even load the website properly or handle high volume traffic, despite their pricing and popularity.
As you can see in the screenshot above. A2's plan starts from $2.96/ month, and it goes up to &7.03/ month.
The first plan (LITE) starts at $2.96/ month, where you can host one website with five databases. You'll get unlimited storage capacity with unlimited transfer. As this is a shared hosting plan, they offer regular cPanel access with free SSL and & SSD. If you are planning to host One website, this plan is for you.
The second plan (SWIFT) starts at $3.70/ month. It's also the most popular plan of A2 shared hosting because it offers more features just for a few more dollars. Here you can host unlimited website + databases as well as you'll get unlimited storage and transfer. Just like the LITE plan, you'll get access to the regular cPanel with free SSL & SSD.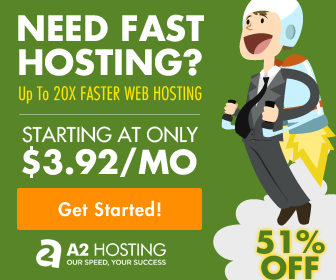 The third plan (TURBO) starts at $7.03/ month. The name of the plan says it all. If you are planning to run a heavy website, for example, if you want to host an e-commerce website; this plan is for you. Here you'll get all the features that you get with the first and second plan. Additionally, your website will receive a 20X speed boost, which is just amazing.
Domains
While purchasing the plan, you can register a new domain with A2 hosting. Keep in mind that A2 doesn't offer a free domain with their hosting plan. If you already have a domain purchased in your hand, you can choose the third option, which is "I will use my existing domain and update my nameservers" and save a few bucks.
You can also transfer your domain from other registrars to A2 Hosting.
Offer
There is a limited period offer running on A2 hosting where you can get the LITE Shared hosting plan by A2 just at $39.92 for 12 months. With it, you'll get unlimited disk space, unlimited monthly data transfer, 25 email addresses, 5 databases, 5 subdomains, 25 parked domains, 1 primary domain, and standard cPanel access. SSL is also free with any A2 hosting plan you choose.
My Opinion
I have been testing and using A2 hosting for quite a time now, and I love it. Their unique turbo feature makes all the difference. I have always been saying that the Support team is one of the main factors while choosing a hosting company, and A2 hosting has that team. They are there to help you with any hosting-related problem. Contacting them is also easier, you can connect with them via mail, live chat, or by creating a ticket right from your hosting dashboard.
Conclusion
If you are looking to upgrade or choose a fast and affordable hosting plan, A2 hosting got your back. Try their hosting plans, and if you don't like it, A2's unique money-back policy will make sure that you don't lose your money.